If you follow along with Spencer Haws on the Niche Pursuits blog, you've probably seen that we're about to start Niche Site Project 3. If you are interested in learning how to build a niche site this project will definitely be of interest to you.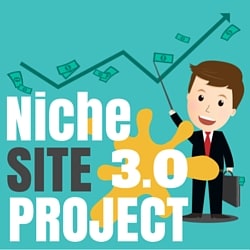 If you aren't a reader of Niche Pursuits, let me give you a quick run down:
Myself, Spencer, and Perrin will each be selecting a student to coach through the process of starting a "niche website" with the intention of generating income from that site.
Our hope is that by sharing all the strategy and questions in a public forum, readers will be able to follow along and learn how to build a niche website of their own.
Over the last week or two we've all been reviewing the applications that our readers submitted, trying to narrow down the list and ultimately choose a student.
While there isn't a magic formula for being a successful niche site builder, going through this process did get me thinking about something:
While there isn't a magic formula for to building a niche site, going through this process did get me thinking about something:
We also have a more in depth post about the details of how to build a more successful Amazon Affiliate Site here. You should definitely check that out if you've already started building a site.
What is a niche website?
A niche website focuses on a select group of people from a much wider market; focusing on one topic of interest. Targeting a specific search term will direct people to your website. Here visitors will find useful and quality content that should answer their search query.
What are the most important traits you need to create a niche website? 
Today, I want to share 3 essentials traits you need to possess (or be developing) in order to create and grow a successful niche site.
1. Creativity
Being able to "think outside the box" is critical in order to succeed.
Creativity really comes into play throughout the entire process, but here are a couple of specific examples:
Choosing a Niche
Even on the very first step of picking a niche, a lack of creativity will limit the ideas you can come up with. If you're running up against a brick wall, check out our post on how to come up with profitable website ideas.
In addition, I find it helpful to loosely plan out a content strategy when you are making a decision on the topic of your site.
Someone with a little bit of imagination could take a random niche like "Interior Painting" and quickly come up with a bunch of ideas and angles they could create content about.
They might think of things like:
Painting techniques for different surfaces like paneling, plaster, etc.
Creating unique patterns/designs/effects for certain rooms – advanced techniques
General techniques/tutorial posts – beginner painting tips
Equipment reviews and comparisons of brushes, paint brands, and more
Interviews/tips from professional painters
Fixing problems caused by bad painting (i.e. "how to get paint off of _______)
Alternatives to painting (when to use wallpaper or other finishes instead)
Someone who lacks creativity might hear the niche "Interior Painting" and think "You grab a brush and put some paint on the wall. How can I build a site about that?"
When you can quickly come up with a creative list of potential topics in a niche, you can then really expound on that using Long Tail Pro and other methods to build out a specific list of low competition keywords you plan to target.
Making Connections in Your Niche
In addition to coming up with a general direction for your site, I believe that making connections inside of your niche/industry is a huge part of building a successful brand online.
It's tough to grow into a bigger authority site while on an island, disconnected from your niche community.
You need to engage your community by reaching out to influencers and bigger brands in your space for things like backlinks, guest posting opportunities, and simple "heads up" emails to let them know when you mention or quote them in a blog post.
If you are sending a generic-feeling, template email to a busy influencer in your space and are hoping for a positive result, don't hold your breath.
Most likely your email will be lost in a sea of hundreds or thousands of others that don't really stand out.
Instead, look for a unique angle you can take, like reading their "about me" page and finding something you share in common and try contacting them about that first to strike up a conversation.
Another approach could be politely letting them know about a mistake on their site like a broken link or an image that isn't loading. Again, it's a great way to get a reply from them and hopefully make a connection.
If you're a creative person, you'll likely have a much easier time making beneficial connections inside of your niche.
2. Decent Writing Ability
Unless you have a chunk of money set aside to pay content writers, you'll likely be doing the vast majority of the writing for your site early on.
Because of that, you need to be at least a decent writer; this will be essential when building a niche website.
If not, you'll find it difficult to get people to stick around on your site and read related articles, opt-in to your lead magnets, click on your affiliate links, etc.
If people land on your site and quickly hit the "back" button, this is known as a "bounce" and may actually have a negative impact on your site in the search engine rankings, since Google is able to see how often visitors actually interact with your site.
The good news is, writing for the web is quite different than writing research papers for school.
It's all about getting your message across and being engaging, which really overlaps with the creativity trait once again.
No teacher will be grading your niche site writing, so you really just need to be concerned with connecting to your target audience. If that's using a very casual and humorous writing style that would have flunked you out of your college writing class, so be it!
Long story short – if you're creative by nature and a decent writer, you'll be just fine.
What If I Hate To Write? 
If sitting down and writing for hours at a time isn't something you love to do, then it's helpful to use a mix of content styles that don't involve huge amounts of original writing from you.
This really makes your job of writing for the site so much easier.
Here are 13 different blog post style ideas from HubSpot to show what I mean.
One example from their list is "The Curated Post" where you pull together content and ideas from around the web and put them all together in a blog post on your site. These can be really useful pieces of content, and they don't require you to sit down and start writing something from scratch.
Here are a few curation post examples that demonstrate the concept:
Other ideas like an "interview post" where you are basically just asking questions of an expert in your niche and an "infographic post" where you feature an awesome visual are fantastic ways to create excellent content without doing too much laborious writing.
3. Persistence
Look, if you are looking to become a niche website builder  from scratch and watch it grow into a money-making asset it's going to take some time.
To stick with the growing analogy, you'll be doing a whole bunch of sewing before you do ANY real reaping.
I think the persistence required is especially tough for creative people.
I'd say of the 3, it's the hardest part for me.
Why?
Because when creativity is a strength of yours, you likely see hard-to-resist opportunities all around you.
Some have called this "shiny object syndrome."
So today you are on the niche site bandwagon and you buy a domain, start creating blog posts, and then next week you read about somebody making money through Amazon FBA and decide to create a new product to sell.
Suddenly your 2 week old niche site is a distant memory and never does much of anything.
I've been there (many times).
But the truth is that if your niche site is going to be successful, you have to be committed to sticking with it and planning and creating content long after it stops being fun.
If your site is brand new, it'll likely take several months to really start ranking and pulling in organic traffic from Google thanks to the sandbox effect.
There are things you can do to expedite success, like picking up traffic via social media and other sources, but generally things will start slow – so be prepared for that.
Overrated Traits
Since I outlined 3 essential traits that you need to build a successful niche site, I thought I'd share some thoughts about traits that are overrated; meaning that they can help, but they are far from essential when you create a niche website.
1. Web Design Experience
If you can check the box on the 3 essentials above but have avoided starting your own niche site because you don't know how to design one – I've got some good news for you…
A successful niche site isn't really about design, it's about generating income.
Certainly there is a connection between the two – you can't create a site that looks like it was built in 1997 and think you are going to be a smashing success. However, it's easier than ever before to create a professional looking website without any special design skills.
There are plenty of places to get free and paid WordPress themes, but my favorite has become Thrive Themes. 
Shane and his team have developed nice, simple themes and a content builder that makes building beautiful blog posts very easy.
On the flip side, someone with design experience could create the best looking niche site on the internet but if they pick a bad niche, do poor keyword research, and don't excel at content creation – they'll really struggle to make money from the site, which is the ultimate goal.
So if you're a designer by trade that's great, but it certainly isn't a prerequisite to success.
2. Being An Expert In Your Niche
This is another one that is often overrated, causing some people to never get started because they don't feel as if they "are enough of an expert" on their given topic.
I've got good news for you as well… there is plenty of room on the internet for many different levels of expertise.
There are always going to be people who know more than you, but that shouldn't stop you from sharing what you know.
In fact, Pat Flynn of Smart Passive Income started his first online business when he was anything but an expert in the topic.
According to his story, he was studying for a LEED certification exam and felt overwhelmed by the material. So he started a blog to organize and record the things he was learning. Eventually, this turned into one of the most prominent online resources for people studying for this exam and ultimately was the first online success for Pat.
Was Pat an expert in LEED certification when he started the site?
Not even close.
But he was learning, and documenting the things he learned.
When you think about it, that level of content was probably much more helpful to someone else who was preparing for this exam than reading information from the foremost expert in LEED certification.
Why is that?
Because Pat was speaking the same language as his fellow students, and the content was perfect for their current stage in the process of exam preparation.
The same holds true for you.
You might be interested in a niche but know hardly anything about it. Why not use your niche site to document things as you learn them, so you can help teach others who are also just beginning?
Remember, it's all about connecting with your audience so don't let your lack of "expert status" stop you from giving it a shot.
Ready To Get Started?
We have now covered the basics of how to create a niche website. I truly believe that anyone who is creative, persistent, and at least a decent writer can create a successful niche site.
Being a designer or a true subject matter expert are nice bonuses, but not essential for your success.
So if you've thought about creating your own income-generating website and have no idea where to start check out Long Tail Pro today for your FREE 7 day trial.